Welcome to the Ebon Flame!
Ebon Flame is a raiding guild with a strong social and community aspect based on Moonglade, an RP-PvE realm in the EU.

We are one of the oldest guilds in the realm, formed in December 2005. Today, Ebon Flame is a long-standing & successful guild with active recruitment, resources in the form of a focused & well stocked/funded guild bank accessible to members, and an active Officer corps.

We have until recently fielded two 10-man raiding teams. One was a progression raiding team that asked a high performance level from its members, and the other was a more social raiding team that wished to progress through current content and who are not afraid of a little challenge along the way. In the run-up to Warlords of Draenor, we have consolidated into one raiding team - and we will continue with one team into the expansion, hitting everything all the way up to & including Mythic.

As well as our raiding successes, we pride ourselves on the stable and mature community we have built up over time and welcome like-minded people to join us as social members. We encourage all other kinds of activities to take place, from PvP in arenas & battlegrounds to role-playing to PvE in instances and doing dailies together. We always aim to get to know each other better, challenge ourselves against the greatest of challenges, and ultimately enjoy the game all of us have chosen to play.
Guild News
Mythic Hellfire Assault & Iron Reaver Beaten
10 June 16, by Sofiana
After some considerable time and a number of issues affecting numbers of raiders, on the evening of Thursday the 9th May 2016 with less than twelve weeks to go until Legion launches, Ebon Flame made it's first successful foray into Mythic Hellfire Citadel - and dropped the first couple of bosses. People seemed to generally enjoy the renewed challenge and chance to stretch their skills in tough, progression content again for the first time in months. :-)


Blackhand (Mythic) Has Fallen!
27 May 16, by Sofiana
Ariethar. Axedra. Chiikiraa. Dawnelle. Devial. Ellvae. Gandogar. Heba. Kenshou. Llompski. Materalus. Mayuu. Shayden. Sofiana. Talyth. Tiaana. Uria. Verannion. Vivantaa. Ymla.

Twenty names - those of Ebon Flame raiders who, on the eve of Thursday the 26th of May 2016, saw through the fall of Blackhand at his most empowered. As a thanks, the Alliance has awarded all Ebon Flame members the opportunity to purchase a Blacksteel Battleboar. :-)

Furthermore, following this victory Ariethar was awarded the single Ironhoof Destroyer to honour his services to Ebon Flame in leading raids since the start of the Warlords of Draenor expansion. Thank you very much for all your efforts to the benefit of us all, Ari! :-)


Heroic Archi Looks Good From Here, Too
20 November 15, by Sofiana
The culmination of many nights of work and wipes happened on the evening of Thursday the 19th November, 2015. We knew what we were doing, and all it took was a little extra "punch". :-)


Archimonde Looks Good From This Angle
3 September 15, by Sofiana
Ebon Flame Transmog Contest
27 August 15, by Sofiana
On the evening of Wednesday 26th August 2015 in the beer garden of "A Hero's Welcome" in Dalaran, Ebon Flame held a costume/transmog competition! First place was won by Devavictrix, second was Susaku, third was Chiikiraa with myself a finalist runner-up. Thanks ever so much also to Bragdash & Faelwen & Catla for taking part, to everyone who showed up to spectate, to Merri & Llompski for judging, and to Shayden for organising and judging! :-)


Blackhand, Warlord of the Blackrock (Heroic)
16 April 15, by Sofiana
Ebon Flame is now officially, once again, Ahead of the Curve - f**k you, Blackhand! :-)


Imperator Mar'gok (Heroic)
27 January 15, by Sofiana
Ebon Flame is now officially Ahead of the Curve. Next: Cutting Edge... :-)


Recruitment Status - Looking For A Few Good Healers
3 December 14, by Sofiana
Ebon Flame is currently looking for up to 1 or 2 more healers who will fit well within our ranks and possess the ability & ambition to raid regularly with us at up to & including Mythic level.

Recruitment to all other raiding applicants is now closed (truly exceptional applicants will always be considered, however).
Mythic Garrosh Defeated
27 October 14, by Sofiana
Hell yeah. :-) Mythic Garrosh Hellscream falls to awesomeness - and is promptly turned into diced meat chunks by Heba. Clearly he gets better for his trial...


Even More Conquering of Orgrimmar
22 September 14, by Sofiana
Ebon Flame stands over the corpse of a formerly-wriggling Heroic Malkorak. Feels good. :-)


The Future
14 July 14, by Sofiana
Ebon Flame has updated it's recruitment status to "generally open to all classes and roles", aiming to build up membership and our raiding team in preparation for the Warlords of Draenor expansion and the Mythic raiding it will bring, and the new opportunities for renewed enthusiasm and playing online with as many friends as we can make and keep in this alternate Outland/Draenor that Garrosh Hellscream has fled to...


More Conquering of Orgrimmar
15 April 14, by Sofiana
At the foot of the massive & vacant throne of Garrosh Hellscream stands the victorious members of Flame, posing heroically while coming-down from a substantial adrenaline-high. Congratulations! Also thanks to Bimse & Heba.

From left to right: Heba, Sofiana, Fendric, Materalus, Jianghuo, Elephtheria, Na´ve, Faelwen, Carenne, Bimse. Picture dated Sunday 13th April 2014.


Thok falls to Flame
3 March 14, by Sofiana
And just like that, after interminable frustration, with a great roar suddenly the enormous beast Thok fell to cries of satisfaction & sighs of relief from the assembled group of Flames who until a moment ago had been hard pressed fighting for their lives.

From left to right: Andarama Conqueror of Orgrimmar, Bias the Argent Champion, Mythrawnudo the Argent Champion, Fendric the Patient, Sofiana the Undaunted, Ymla, Elephtheria the Argent Champion, Knight-Captain Carenne, Bumicka of the Nightfall, & Loremaster Materalus. Picture dated Sunday 2nd March 2014.


Guild Challenge Conquerors: Gold
21 February 14, by Tiaana
After many months of work a dedicated group from the guild finally cleared every challenge mode dungeon on Gold, unlocking challenge mode armour, and Thundering Serpent Hatchings from the guild achievement, which can be bought from the Guild Vendors, so go pick those up pet collectors!. Thanks and congratulations to those involved.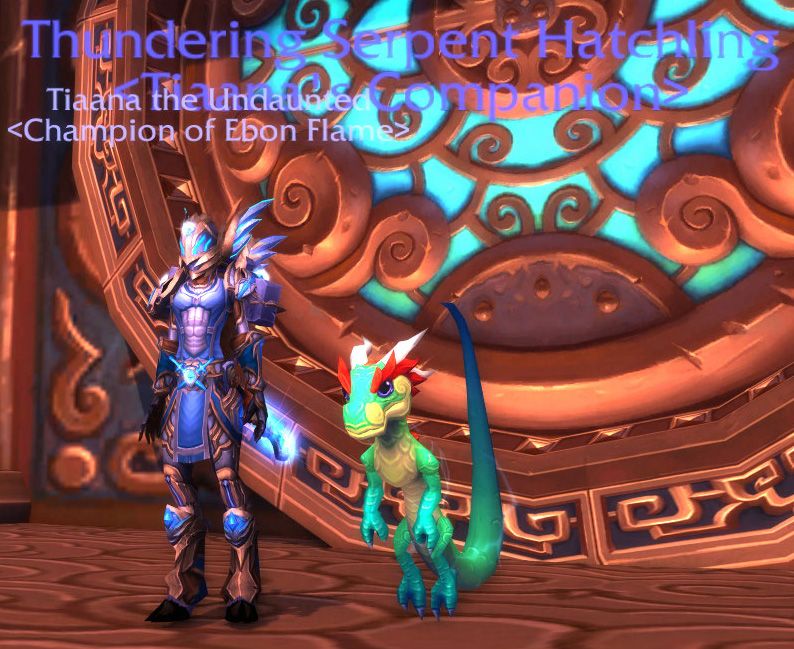 Ebon defeat Kor'kron Dark Shaman (Heroic)
5 February 14, by Faela
Just when we thought we had defeated Garrosh for good, he and his lieutenants rallied and we found we had to once more battle our way through the streets of Orgrimmar...

The Valley of Strength bristles with orc corpses and the stench of blood. The Kor'kron had mounted a strong defence, but in the end, their forces had been a poor match for the magics wielded by Deva Victrix, Bimse, and Heba. As the other adventurers catch their breath, Ortias bends down over the corpse of a treasurer from the bank and takes a ring of keys from his belt, which he uses to free a group of imprisoned shaman from their cages.

Now they must deal with the two shaman leaders and their twisted grip on the elements in order to break through into the city proper. Zenvon scratches a rough map of the area into the dry red earth.

"They will be too much for us to deal with together," he says, "but if we can separate them, we may have a chance." He motions to a far corner of the Valley, away from the main area.

"Chiikiraa will distract Kardris here whilst Faela and Llompski lead Haromm over there, with Ayalin and Angelique for support."

The group moves into position, hoping that by dividing, it will be the shaman that are conquered, not them.





Team Ebon defeated Kor'kron Dark Shaman (heroic) on Monday 3rd February, making us 8/14. Our next target will be Malkorok.